Collected by Nopporn Suwanpanich
To see the catalog of scanned newspapers, scroll down
[To read selections "Part 1: My Tax Money!" from this collection,
click here
]
[To read selections "Part 2: Desperate Before the Law,"
click here
]
[To read selections "Part 3: To Be Fair, Woman,"
click here
]

A Eulogy for My 2010 Memories
Introduction by Chertalay Suwanpanich
The year 2010 left two vivid memories for a ninth-grader. The about-to-be-fifteen girl had not realised that few memories in life could inscribe a lifetime onto a human's soul.
The first memory was my summer tutorial classes at Siam Square at the time when Milk Plus was still open and I went there for a delectable and cheap lunch. My family's financial situation at the time made me thankful for them to allocate the limited money we had for me to take the tutorial classes, all to prepare for the examination into a famous high school located in Siam. It is all the memories that remain now – the mouth-watering toast and melon milk, those English classes I didn't find helpful, and the fourteen-year-old guilt for wasting her family's money.
One particular day in April 2010 was engraved in my memory more than any other day in my life. One day in April, an ordinary day, I took the skytrain back home after class but got on the wrong line. It became a day that is still vivid, a remnant of April 2010 in the history of Thailand's dehumanisation. It was just a normal day, just a wrong train line, just me being an absent-minded girl who hadn't been accustomed to Bangkok's skytrain and the metro, just the confusion between the line to Mochit station and Saladaeng.
Suddenly I was there at Saladaeng, I walked out and realised I had gotten on the wrong line. Instead of going to Mochit and getting onto the metro to Bangsue to wait for my mum, I arrived at Saladaeng. The fourteen-year-old was startled. The second I got out of the station to the skywalk, I was the only living being, there was no other creature on the skywalk, no one else on the road below, not a single car passing by, not a single soul breathing. It was only me and the soldiers in full armour with huge guns.
That was the first time in my life I ever saw a gun.
And that was the first time in my life I learnt that coldbloodedness had its own smell. It was lingering in the air. It has its own temperature. That brief moment in life, a few steps from the skytrain across to the metro, was engraved. And it remains in my memories. The non-verbal antipathy, the silence, the terrifying soldiers, the guns, the smell of the blood premotioned in the air. A few minutes of the middle-schooler's memory is still vivid, that girl could not describe the memory into words, neither can the now twenty-eight-year-old woman. It's impossible to describe the memory of the air, even until now I can only say it was lingering in the air.
My fourteen-year-old memory was fast-forwarded to me sitting in front of the television, watching the news about the crackdown on protesters, the people around me who were gratified to see "those country bumpkins who set fire to Central World" were "taken care of" by the soldiers. That girl was disoriented. How come? How can you just fire at people like that?
.
Another black hole of my ninth-grade memory was of my dad. That girl was used to her dad getting in and out of hospital because of his strokes. He had strokes three times. Yes! It was three times! How was that even possible? Three strokes robbed him of his career as a simultaneous interpreter, but he was still healthy enough to do everything on his own; he still published a dozen books on linguistics and politics after that.
So I grew up being used to my dad's health conditions and also used to everyone around me saying 'your dad is super strong' 'he's gonna live long, look at how he's still healthy even after three strokes.' But I hadn't learnt to read between the lines, I didn't know that sometimes adults say things to soothe their worries rather than saying the truth. That year he coughed a lot and one day he was admitted to the hospital with something I could not remember. He stayed at the hospital for just one night and the doctor said there was nothing to worry about. Dad returned home on a day in November 2010 – at the time I was this teenager who was obsessed with studying for the high school entrance examination.
I didn't hug him that day. I simply said it was nice that you're back.
The next morning, he passed away.
.
I lost the last hug and it was the most regrettable thing in my life. I still cry writing about this, and I don't think I will ever get over this regret. I should have just hugged him. I regret not being able to talk, to ask, to quarrel, all those things. There are still many things I'd like to ask him, I even just found out last year that he appeared as a witness for a lese majeste defendant. There are still so many things about my dad I don't know and will never get the chance to know. The fifteen-year-old wasn't so curious but this twenty-eight-year old woman has so many things she would love to talk to her dad about. But the world revolves and certain things cannot be taken back. This is life.
.
More than a decade has passed and I was scavenging through my dad's antique book collection. My heart raced and I gasped when I found these brown and crispy century-old newspapers published during the reign of King Rama VI. Newspapers that even the National Library doesn't have. Upon reading them, many social issues are contemporary still, women's rights, labour rights, centralised development, high military's budget, deficient education budget, pandemics and so on. I cannot even believe that these are one hundred years ago.
Text contains memories and these newspapers are valuable in a society that forgets so easily, or rather, cherry-pick memories and remember only the convenient ones, the ones that give the illusion of one's own heroic redemption. In such a society, these century-old newspapers may be of some use. For me to be lucky enough to grow up in a home filled with thousands of books, to be raised by parents who loved books and taught me to love reading, has also taught me the happenchance of books. When I was in high school, I accidently walked into the B2S bookstore, picked up a Read Journal (of the editor Ida Arunwoong, who is now the founder of the Siddhi-Issara Foundation that takes care of the bail fund for political prisoners). That single book helped me understand what happened to the Red Shirts, the massacre right at the city's centre, the injustice in Thai society, and it has instilled in me the sensitivity towards fellow humans till this day.
Books are a form of justice. To collect a society's memories is a form of justice. Particularly in Thai society today, perhaps the achievable sense of justice is to not distort memories and to collect them. Even though there are things that cannot be said and cannot be written, to collect the memories that we can collect, say certain things that we can zig-zag to say, these may be the remnants of justice that ordinary people can give each other, a form of justice that is not too out of reach.
.
I only hope that these century-old newspapers collected by Nopporn Suwanpanich and I scanned to publish here, may perhaps be the happenchance that can be of some use to someone, and that a part of it remain in their memory.
.
How thirteen years fly by.
Written in dedication to my dad… Nopporn Suwanpanich
Chertalay Suwanpanich
12 August 2023
---
Catalog of Scanned Newspapers
Kammakorn-Cover-Musor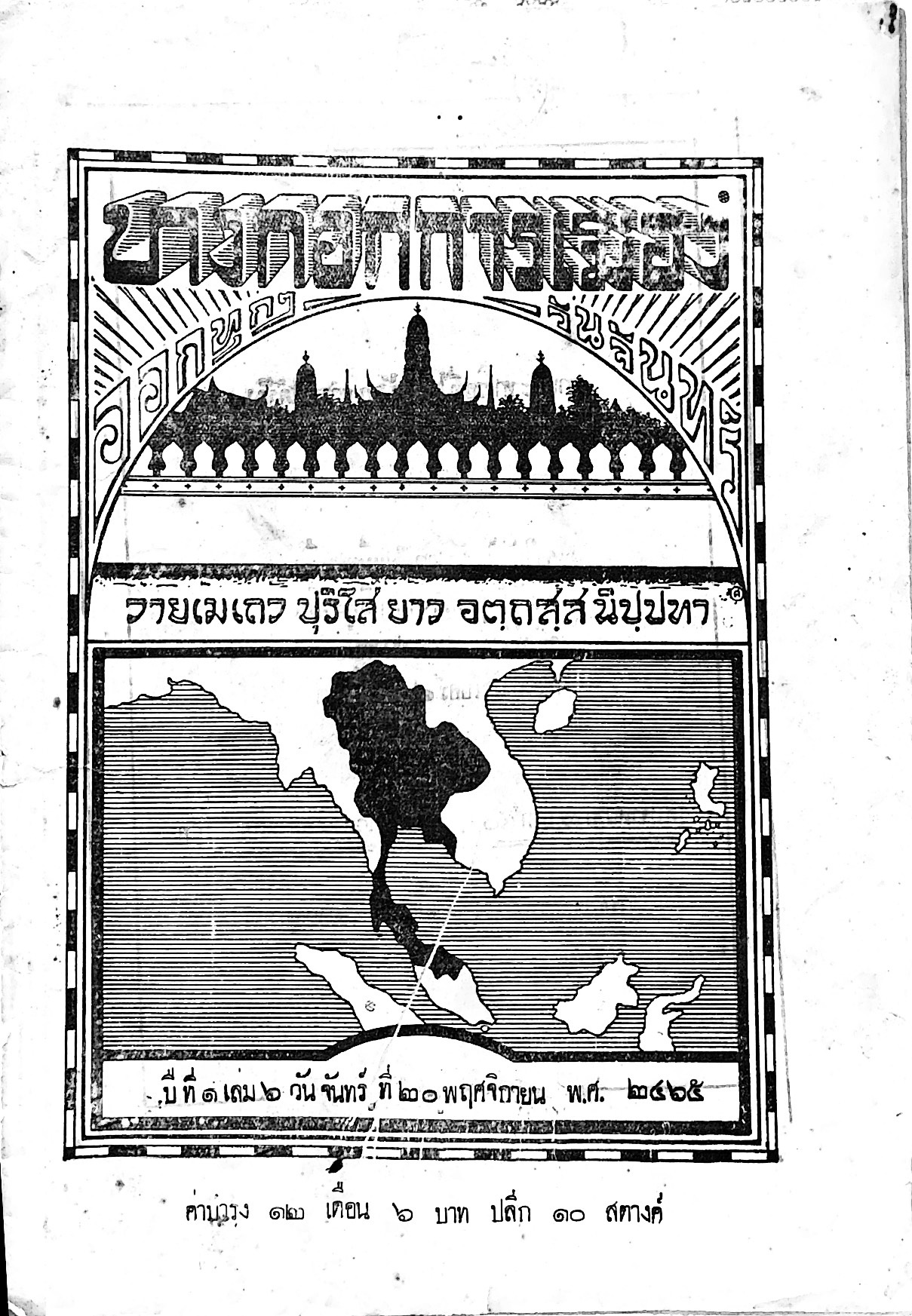 Bangkok-Kanmueang-Cover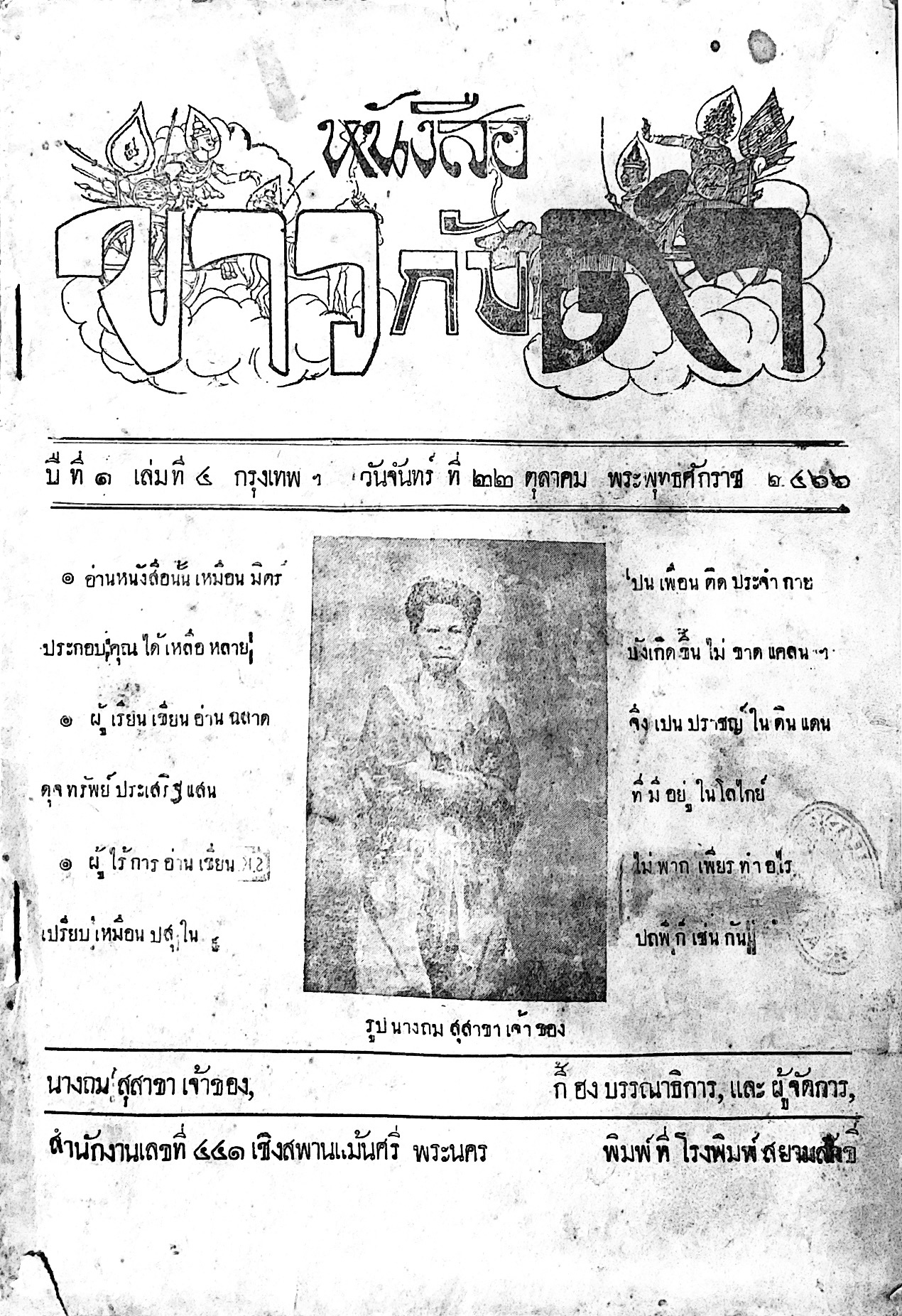 Khao-Kap-Dam-Cover
Kammakorn (8 Volumes)
Bangkok Kanmueang (2 Volumes)
Khao Kap Dam (2 Volumes)
---
This series is part of the project Dissident Dreams, sponsored by Democracy Discourse Series, De La Salle University, the Philippines