This is a world premiere of the song "The Bastille: A Molam's Retelling" by Patiphan Luecha, also known as Patiwat 'Molam Bank' Saraiyaem. This song was written in Bangkok Remand Prison in July 2015. Almost exactly eight years have since elapsed. Today, on France's National Day, we present an eight-minute track that fuses commemoration with imagination, foreignness with familiarity. We also include, at the bottom, photos of the manuscript of the original lyrics from the artist's prison notebooks.
Lyric video
Lyrics and music by Patiphan Luecha
Arrangements by Morkhaen Bas
Graphic design by Rum Plune
Cover art by Tode Kosumphisai
Lyrics in English translation
Nation
The nation is the people
Everyone shall be equal
With nothing in the way
Of equal dignity
No matter rich or poor
Each equally a person
Period—no fudging no excuses
Whether you're rich or poor
You shall be under the law
If you want to live happily
Then freedom there must be
I'm not badmouthing nobody
This is the fundamentals of being human
In short, justice must prevail
And come first in this age
Not like the epochs past
That good or bad? Glad you asked
But first hear my message
Fraternity is also key
Hand in hand we go as brothers
And sisters, caring for one another
A nation will blossom out
Making great strides forward
When its populace holds sway
What's that mean, you say?
Means a democratic system
Must be in place, the Thai nation guided
By our own hands—your hand and my hand
Keeping Thailand from reversing course
We'll prosper, never afterthoughts
And grow by leaps and bounds…
Here we go, Father Faithful
Listen up, Mother Faithful
Now we sing and dance
With graceful arms and hands, arms and hands
A molam Q&A
Where you decode and pose questions
Do you know, eh? Got a clue, eh?
This he-molam will tell you
A story—hey mo'khaen, hold it
Hear your bard first
Don't fall asleep my listeners
Old history this is, of France no less
Way back in 2332 B.E.
Uncles and aunties, that's 1789
In Christian Years okay?
Where were you back then, madam?
Old history written down, written down
When France was in disorder
Destitution led to clashes
The citizens were slaughtered
That, sir, is how they reached Enlightenment
Meaning people got the intelligence
To develop a system, to find answers
For the people. That's why they established
Democracy, so that fellow citizens
Could flourish more than before
The rule of Louis the Sixteenth, the Sixteenth
Plunged the country deep in debt
From wars he drained the people's pockets
Squeezing the fruits of their sweat
With pretexts of need he exploited, exploited
You suffer? He couldn't care less
The palace loaded with extravagance
The people SYSTEM ERROR'd
And died in droves
That means the people—me and you
Only had sorrow and no peace
Banding together they objected
But Grandpa Louis didn't listen
They were thrown in a heap to prison
For a brutal punishment
The Bastille prison was packed, people-packed
Grandpa Louis took no heed
He arrested more by the day
Till hundreds clamored to be freed
Brothers and sisters were outraged
Gotta let them have it, gotta storm it!
Enough have our folks suffered!
An overflowing mass of people
Broke through the Bastille
Grandpa Mee, Old Soam, Grandma See, E'Wueng
Grabbed clubs, hoes, shovels
Rose up and destroyed it, destroyed it
So people could escape from there
Laying ground for National Day
The National Day of France
Came from this battle cry, battle cry
When the people stood up to Adharma
(My people, stand up to Adharma!)
On the Fourteenth of July
I learned about it and wanted to share
So I'm singing you this song
There's still hope for us, hope for us
To build our nation strong
On flat terrain, let's survey the place
The Bastille busted, the crowd hoorays
A celebration for the country
Where the people reign supreme
Democracy is the light of victory
Enabling us folks to stand firm
No backsliding in the long term
Remember what that means:
Liberty, Equality, Fraternity
Shall be secured by your own hands
For the country's peace
---
Manuscript of the original lyrics
Dated 16/7/2015, penned in Bangkok Remand Prison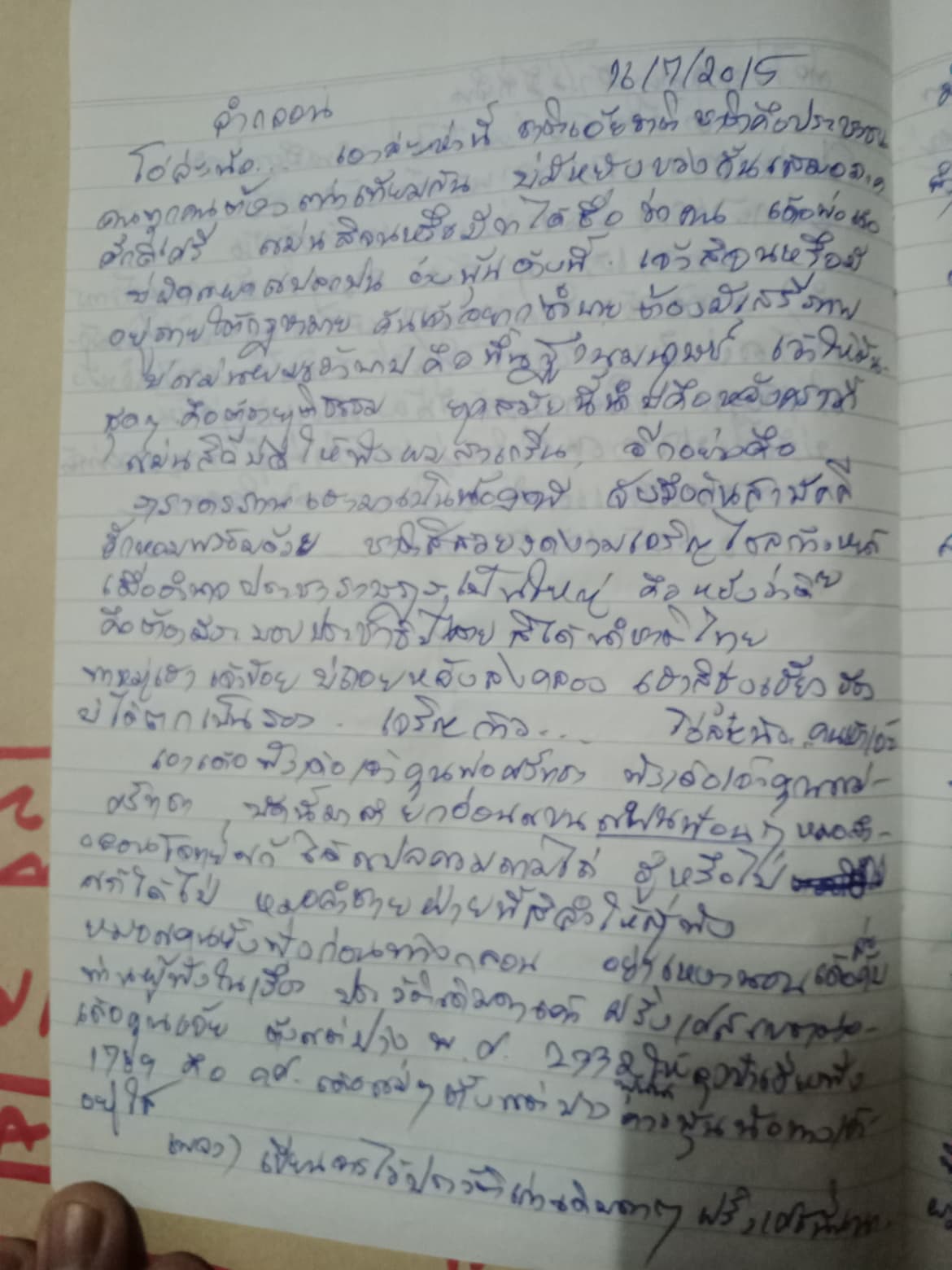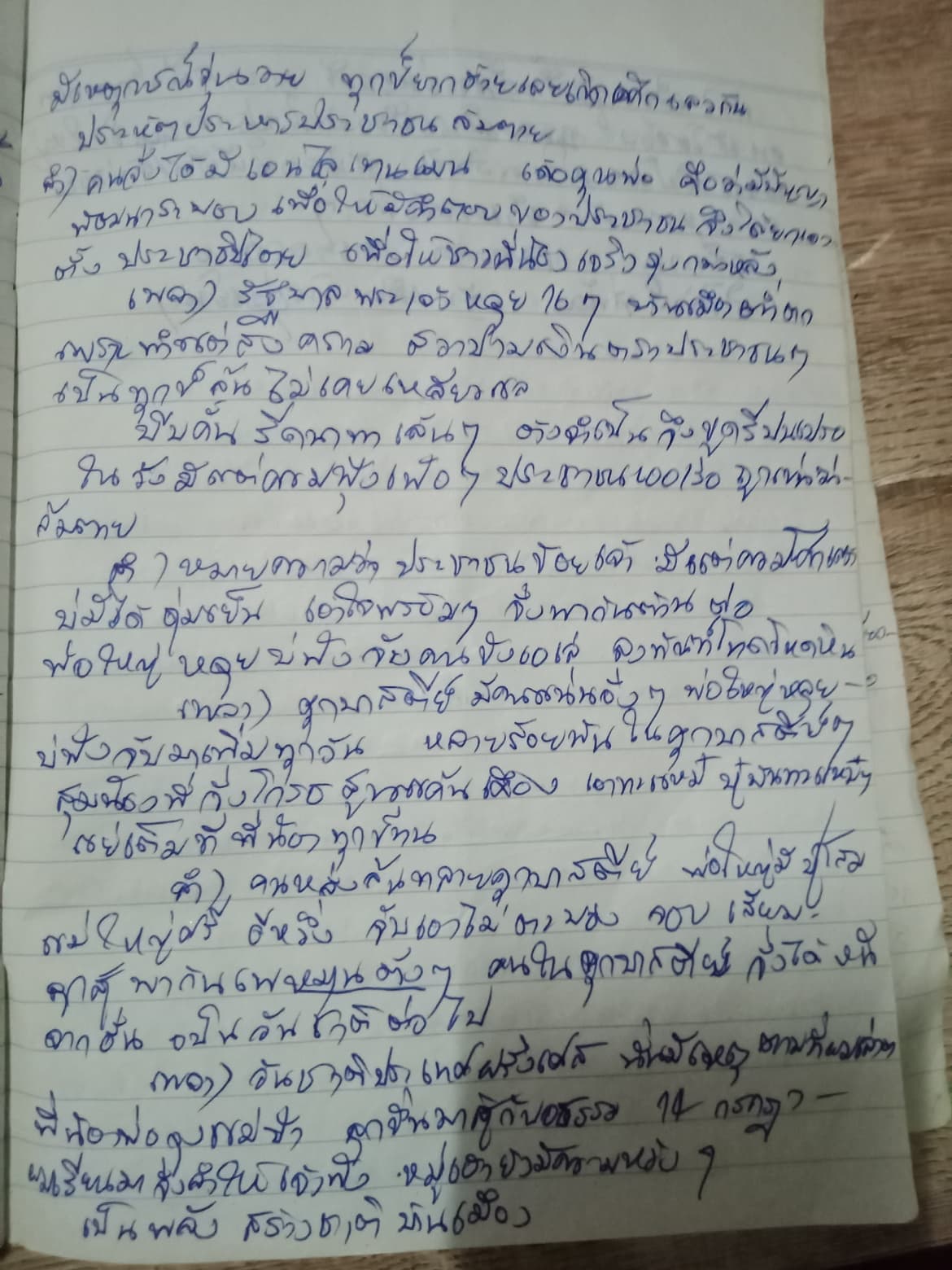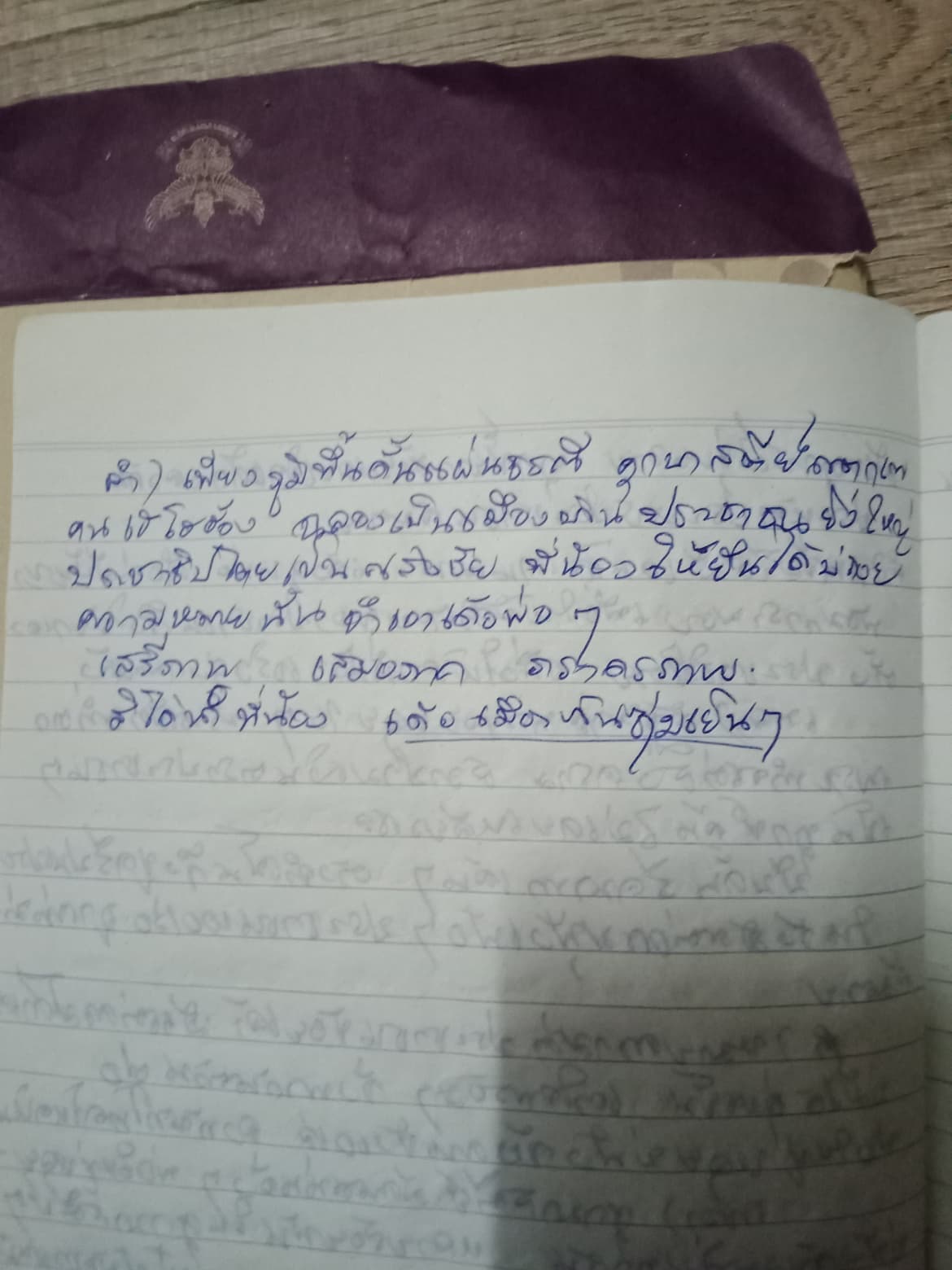 125190757_1027826331067719_4835777580837385709_n
125049051_368844697786896_2387571514756083317_n
124862026_381885473127409_1263301385980916303_n
This song is co-produced by Seen 2 Ton Studio and the Siddhi-Issara Foundation as part of the project Dissident Dreams, sponsored by Democracy Discourse Series, De La Salle University, the Philippines