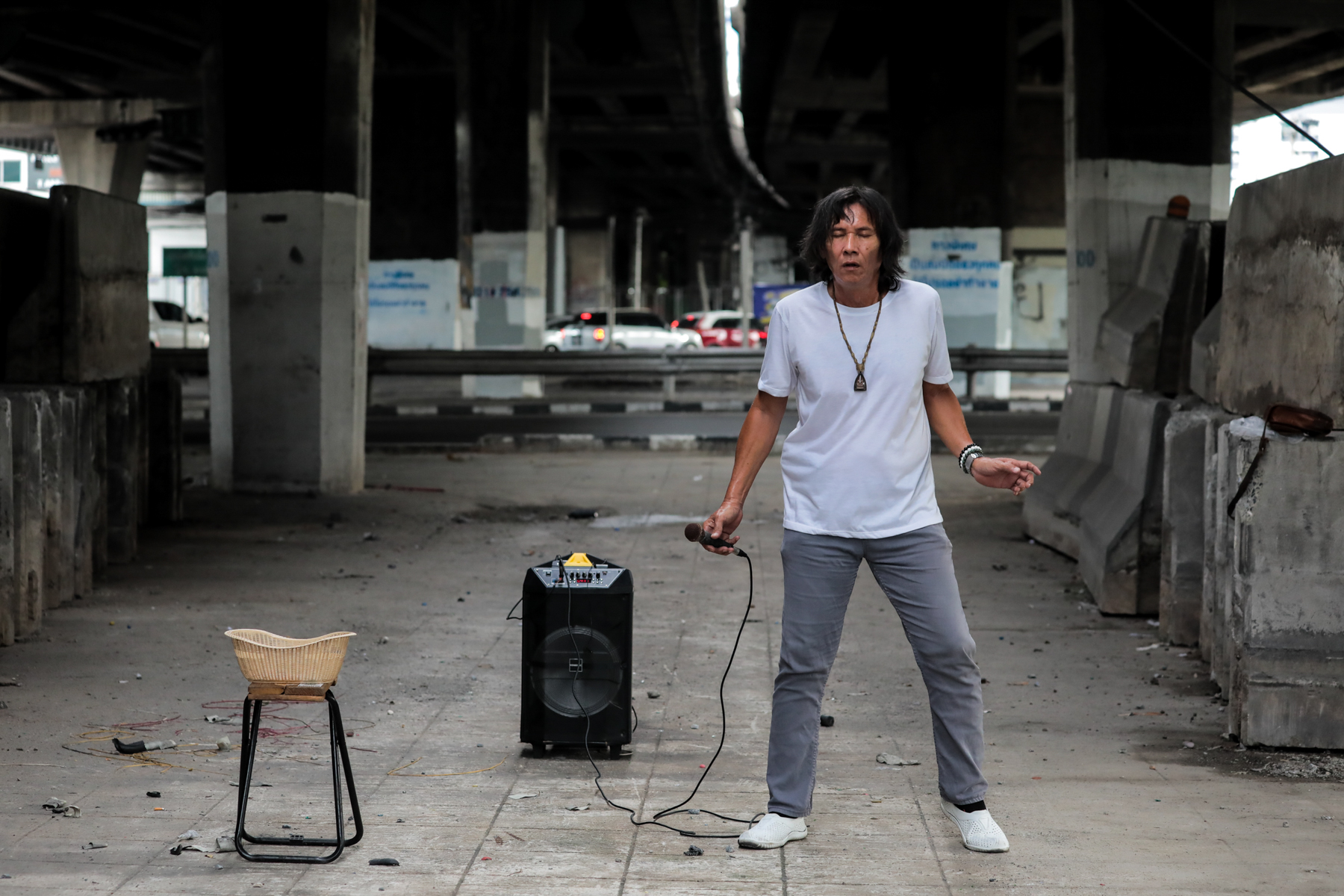 Interviewed by Anon Chawalawan
Translated by Pintong Lekan
"I still believe that the wind of change is already blowing. Right now, the wind might be blocked by something. But it will only be blocked temporarily waiting for enough pressure to build up."
John, a tall, long-haired man said in reply to a question about the political situation after the May 2023 elections, where movements on the streets were dormant, and where the new coalition government retained several ministers from the previous government under General Prayut.
John Sanam Luang, who is 62 years old, is not a core leader among protestors. But many demonstrators who never heard of him may have actually heard his voice before, as he is a singer who would go to a demonstration and install himself a distance away from the main stage to perform for donations.

Performing "Back in Black" by AC/DC
Video by Anon Chawalawan, 18 September 2021
With only a small speaker and a microphone, John uses his idiosyncratic voice to entertain demonstrators with English-language rock music, ranging from the hard rock of AC/DC or Deep Purple to the softer tunes of Creedence Clearwater Revival (CCR), an American rock band that reached its peak in the late-1960s to the early-1970s. He often picks a spot away from the main stage so as to keep his acts from disturbing the main activities.
In 2021, when demonstrations in Bangkok shifted from rallies with a main stage to smaller flash mobs as well as clashes with riot police at the Din Daeng Intersection, John continued to attend on occasion. At Din Daeng, in particular, he knew he would not find many listeners who would be able to contribute to his donation basket, but he still went there to give moral support to the "Thalugaz" (which translates to 'breaking through tear gas') who, he recognized, chose to fight the particularly heavy oppression they faced.
John has participated in demonstrations since some time before 2010, the year of major crackdowns on Red Shirt protests. He remains hopeful for the future, as he has already seen big changes from the recent wave of protests in 2020 and 2021, when issues that used to be reserved for small group discussions moved center stage.
"Back then, Red Siam had few listeners, most of whom were Special Branch police officers. Now, Lawyer Arnon and the students have resurrected some of the issues previously discussed by Red Siam, including the discourse on Section 112 and even some topics beyond what Red Siam discussed. This leads me to maintain my belief that change is inevitable. It's just a question of how fast, or how slowly."
From Chinese Music to English Rock
"I am from Bangkok, born in 1961 in a Chinese family. My father is a native Chinese citizen and holds an alien license. My mother, on the other hand, is of Chinese descent but was born in Thailand."
"Since childhood, I have been exposed to music. My residence was located in a bustling market area where the sounds of Chinese music resonate throughout the day from neighboring houses."
"In my childhood, I didn't have any particular aspirations or dreams. I was an adventurous child, always readily joining my friends wherever they invited me to, I mean anywhere."
"During my teenage years, I developed a fondness for rock music when a friend invited me over to his house, which boasted a top-notch sound system. It was there when he played songs like 'Molina' and 'Hey Tonight' by CCR, and the experience left an enduring mark on me."
"Besides CCR, I later acquainted myself with bands like Led Zeppelin, AC/DC, and other rock groups. Their music resonated deeply with me. It was during this period that I began to learn how to sing and play the guitar with friends. I realized that while I could play chords, I lacked the aptitude for guitar solos. So I decided to focus more on honing my singing skills."
"I am fond of certain Thai rock bands such as Hin Lek Fai, Suea Thanaphon, and Y Not 7. However, I find that Western music has more room for interpretation. It encourages the use of imagination. For instance, while Thai songs are often immediately comprehensible to us, Western music necessitates interpretation and translation. Each individual may interpret and translate it in their unique way. There's more freedom there."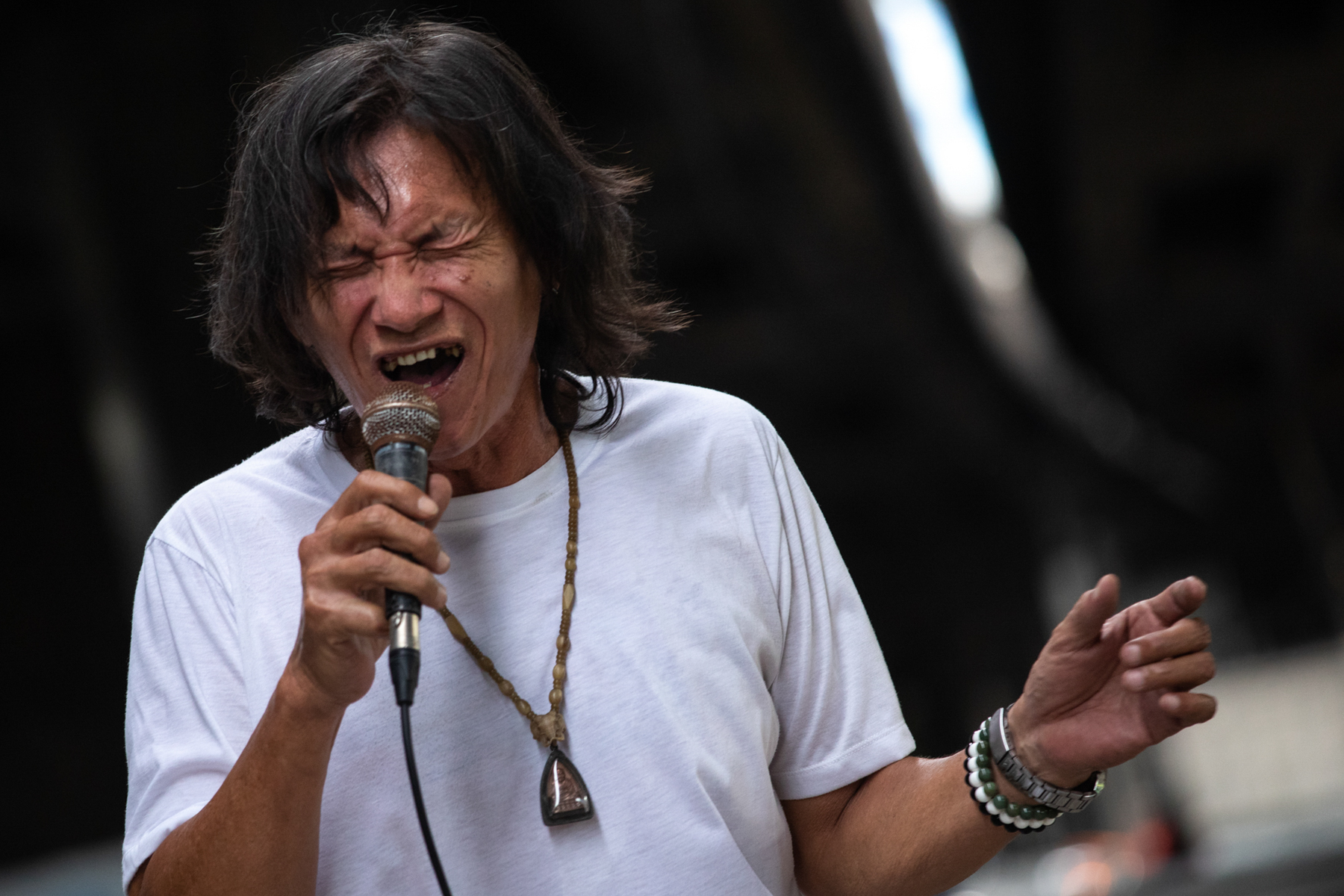 John Sanam Luang Is Born
"It must have been around 1997, although I cannot recall the exact year as it was quite a long time ago. What I do remember is that it was during the period of the Thaksin government. I relocated to Bangkok in search of employment. Given my limited educational background, having only completed the Non-Formal Education equivalent of upper secondary school, I resorted to working as a taxi driver."
"While working as a taxi driver, I often found myself parking at Sanam Luang to take breaks. During that period, the authorities hadn't yet prohibited the sale of goods in the area. It was common practice for me to frequent antique shops and music instrument stalls. On one such occasion, as I was examining a guitar in a music instrument stall, the owner extended an invitation for me to join in a jamming session. I accepted the offer, and soon, I began singing at Sanam Luang. Initially, my performances were purely for personal enjoyment. However, the owner of the stall happened to be the leader of a band called Sanam Luang Jazz Rock, which at that time was missing a vocalist. Consequently, he earnestly proposed that I assume the role of the band's singer, and I readily agreed to join the band."
"In reality, my name isn't John. However, upon my arrival at Sanam Luang, there were mentions that John Lennon, the iconic singer of the Beatles, had made an appearance. I made it clear that John wasn't my name and requested not to be addressed as such. Despite my efforts, it seemed that the name John had already stuck, and eventually, I had to come to terms with it. Consequently, I became recognized as John Sanam Luang."
"I performed with the band for approximately three to four years before choosing to depart for personal reasons that I prefer not to disclose. Following my departure, I transitioned to performing solo, singing and playing the backing tracks from the speaker."

"Upon joining the band, I was still a taxi driver. However, after approximately two to three years of being involved with the band, I started noticing a decline in the economy. The reduced number of taxi passengers led to days where I incurred losses. Consequently, I made the decision to cease taxi driving and rely solely on my musical performances. Although the income is modest, it suffices for my personal sustenance. Nevertheless, if I were to have a family to support, I reckon it might not be enough to meet their needs."
"I'm not sure what others might think, but in my view, street performing is a profession that demands professionalism and dedication. One must be confident and skilled to present their act publicly. If you're still learning or lack confidence, it's better not to perform. Street performance is akin to showcasing a product, which, in my case, is the music. I don't want people to give me money out of pity. I want them to contribute because they genuinely connect with my music. Perhaps it evokes fond memories or resonates with their experiences."
"Due to the specific nature of my music, I encounter limitations in my repertoire. Occasionally, when I perform heavier tunes like those of AC/DC, some listeners express dissatisfaction. I receive complaints about the choice of songs not being to their liking. However, when I switch to a softer tune like "More Than I Can Say," the audience seems to be more receptive and appreciative. As a result, I find myself constantly striking a balance between catering to the audience's preferences and staying with the songs I want to sing."

Singing "Sutter's Mill" by Dan Fogelberg
Video by unknown, 29 September 2021
Awakening Behind the Wheel
"I was an unruly child by nature, and politics didn't hold my interest initially. Moreover, I didn't pursue higher education and spent some time residing in the provinces. So, my interest in politics was limited."
"I initially developed an interest in politics during my tenure as a taxi driver. The profession of driving a taxi serves as an effective barometer of the economic climate. When individuals have disposable income, they opt for taxi services, while those with limited funds tend to utilize public transportation. During my early days as a taxi driver, approximately during the Thai Rak Thai government era, the economy was thriving. There were instances when achieving the daily target of 1,000 baht was effortlessly feasible, prompting drivers to end their shifts early and return home. It was during this period that I perceived the government under Thaksin as competent, effectively managing the economy, and implementing policies such as the thirty-baht healthcare scheme that significantly improved the livelihoods of the grassroots population. This period made me realize, This is what tangible democracy is—its fruits can truly be enjoyed."
"At one point, during a rally organized by the People's Alliance for Democracy group, I recall taking a break from my taxi duties at Sanam Luang. On such occasions, a projector would be set up, showcasing Mr. Sondhi's gatherings and speeches. While I wasn't particularly fond of the content, I was curious about the kind of allegations that might be directed at [Thaksin's government], about the falsehoods and slander."
"In 2010, during the Red Shirt protests, I continued my taxi driving but intermittently attended the rallies. Although I didn't actively participate as a guard or engage directly with the movement, I aimed to be of assistance to the gathering in any way possible. I patrolled the area, keeping a lookout for any unusual occurrences. It was during these rounds that I became acquainted with Red Siam, a smaller subgroup within the Red Shirts, focusing on distinct issues not discussed by the main United Front for Democracy Against Dictatorship (UDD) group at their primary stage."
"While listening to the speeches of the Red Siam group, I 'got it' immediately that I'd been fooled into believing in something to be good and beyond questioning, even though many historical facts raise questions. For instance, the case of Field Marshal Thanom, a dictator and tyrant implicated in so many unsavory activities—how come he could eventually return to Thailand?"
"As I attended rallies with the new UDD group, I initially thought there was a distribution of roles between the main stage of the UDD and the smaller stage of Red Siam. However, I gradually noticed that Red Siam appeared to be marginalized within the larger procession. Yet, in 2020, during a wave of protests, I felt good that the ideas presented by Red Siam were revisited and amplified, that Red Siam's efforts were not in vain. Their ideas continued to be a subject of discussion for future generations."
"Back then, Red Siam had few listeners, most of whom were Special Branch police officers. Now, Lawyer Arnon and the students have resurrected some of the issues previously discussed by Red Siam, including the discourse on Section 112 and even some topics beyond what Red Siam discussed. This leads me to maintain my belief that change is inevitable. It's just a question of how fast, or how slowly."
Live at Political Rallies
"In 2020, I decided to cease my taxi driving and focused solely on performing. My residence is situated on the outskirts of the city, far from the protest areas. The expenses incurred each time I traveled to the protest site were quite substantial. Whenever I attended these demonstrations, it was not solely to listen to speeches but also to showcase my musical talent and collect tips. The gathering at Sanam Luang on September 19, during the 'Reclaim Power Back to the People' event, stands out as a particularly noteworthy occasion. The sheer volume of attendees at this gathering resulted in me earning thousands of baht."
"Apart from performing at large-scale protests, I also sang during clashes, like at Din Daeng, despite its considerable distance from my residence. During clashes between the demonstrators and the police, the situation became too chaotic for anyone to spare a moment for tipping. Escaping from potential altercations with the police became the primary concern. Nonetheless, my presence at Din Daeng was driven by the desire to give moral support to the youth involved in the Thalugaz movement. Based on my interactions with these individuals, I found them to be bold. The majority of the Thalugaz youth hail from families with limited opportunities, encountering numerous challenges in their lives. Many of them work as motorcycle taxi drivers, often subjected to police checks and scrutiny without having a platform to voice their concerns. Unlike those from more privileged backgrounds or celebrities, they lack the influence and resources to challenge the status quo. The oft-repeated adage "if you've done nothing wrong, you have nothing to fear" loses its relevance when applied to the Thalugaz youth: put yourself in their shoes and you'll see."
"My song selection process? I base my song choices on the prevailing mood of the protest. If the atmosphere is charged with excitement, I won't opt for slower, mellower tunes, as that's not going to suit the moment. However, in instances where the energy is high, I typically select heavier songs like those from AC/DC or Deep Purple, such as 'Highway Star.' I often modify the lyrics slightly, adding the phrase 'I hear too,' [a coded way to curse at General Prayut] which elicits cheers from the crowd every time. My intention is not to incite further agitation by singing fast-paced, exhilarating rock songs during tense or spirited protests. Instead, my aim is to uplift and encourage those gathered, emphasizing that I will persist in singing to support their cause."

Listen to the "I hear too" snippets at 0:20 in the middle of "Highway Star" by Deep Purple
Video by Prachatai, 17 November 2020
"On occasions when the gathering experiences a lull during a slow speech, I opt for songs with a slower tempo, such as 'Have You Ever Seen the Rain' or 'Wind of Change' by Scorpions. These selections resonate with the sentiment of change that is prevailing in our country, much like the metaphorical wind of change referenced in the song."
"I still believe that the wind of change is already blowing. Right now, the wind might be blocked by something. But it will only be blocked temporarily waiting for enough pressure to build up."
"At least I have seen a change in people's way of thinking. From the time when I was a child, some things were forbidden to be talked about. Adults would say it's sinful, or that you'll have ringworm growing on your head. They'd use traditions and religious beliefs to suppress it. So how is it today? You can no longer use that kind of thinking to fool people in this day and age."
---
This article is co-produced by the Museum of Popular History and the Siddhi-Issara Foundation as part of the project Dissident Dreams, sponsored by Democracy Discourse Series, De La Salle University, the Philippines